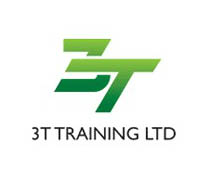 3ttrainingsales

gmail.com
Phone: 01827 [Reveal]
Fax: 01827 313033
Welcome to 3T Training Ltd
3T Training Ltd were established over 17 years ago with the promise that every service we provide would be the highest quality possible at all times. This philosophy has served us and our customers well as we near our 20th anniversary. Our customers however large or small have remained satisfied that our standards over the years have remained high and reliable. Our reputation as a company that "deliver what we promise" continues to grow.

We currently provide training nationwide to the whole business sector. We specialise in Fork lift training, Crane operator training (Overhead, Gantry, Jib, Mobile), MEWP training (Scissor lift & cherry Picker), Manual Handling training, Ladder & Step use and inspection, Mobile tower scaffold training, Vehicle Reversing, Lorry mounted cranes (HIAB), Spill kit training, Abrasive wheel training, Safe lorry loading, First aid & Fire marshall.

Helping to achieve the best results from training we have set ourselves the following standards

Knowledgeable & experienced - relevant, up-to date knowledge, how and where to apply it
Confident & resourceful - we have over 20 years of experience
Practical & professional - we know what to do and how to do it
Enthusiastic & energetic - we always go the extra mile
Cultural alignment - we ensure our work supports your business objective.

Forklift Training

3t Training Ltd are capable of providing fork lift training on any type of forklift. All our courses follow a very specific HSE approved criteria, which is carried out by highly trained experienced and registered instructors. Please click through to our website now for further information on all of the courses we can provide. If you have any questions do not hesitate to contact a member of our team.

Novice courses - No previous forklift experience.

Experienced operator course - Previous operator experience but no formal training.

Conversion Course - Previously trained on one truck, requires training on different truck type.

Refresher training - Re-training and testing after a pre-determined time.

Truck Types:
Counterbalance, Reach Truck, VNA, Bendi, Telescopic, Sideloader, Order picker, Pedestrian operated, Rough Terrain

Overhead Crane Training

Our overhead crane training course takes place on your site, giving all attending trainees the best possible practical training. The trainees will be given a series of tasks including.

Planning a lift
Slinging of loads
Manoeuvring loads

The trainees will be expected to communicate clearly with colleagues using verbal, radio or hand signals.
All trainees will be expected to pass both a practical assessment and theory test.

Duration of the course will be affected by number of trainees attending the training course, their experience and the availability of the equipment.

Contact us to discuss any of your requirements.

Abrasive Wheel

Our Abrasive wheel course covers all the necessary training requirements set out in HSG6, Safety in the use of abrasive wheels.

Machines covered on the training course;

Pedestal grinders
Bench grinders
Angle grinders
Stihl saws

The course is typically 4 hour in duration and will require each attending trainee to successfully complete a practical assessment and theory test.

Ladder & Step Training

If your site use any type of Ladder, step or access equipment you have a requirement to provide training. We can deliver our course on your site make full and complete use of the trainees working environment and working methods.

Type of equipment

Ladders
Combi Ladders
Stepladders
Podiums

A typical ladder & step training course will be about 4 hours in duration and will the require the trainees to complete a practical assessment and theory test.

Areas We Cover

Banbury
Birmingham
Burton on Trent
Cannock
Cheltenham
Coventry
Crewe
Derby
Derbyshire
Gloucester

Hereford
Hereford & Worcestershire
Kettering
Kidderminster
Leicester
Leicestershire
Mansfield
Milton Keynes
Northampton
Northamptonshire

Nottingham
Nottinghamshire
Oxford
Oxfordshire
Peterborough
Redditch
Rugby
Sheffield
Shrewsbury
Stafford

Staffordshire
Stoke on Trent
Tamworth
Telford
Walsall
Warwickshire
West Bromwich
West Midlands
Wolverhampton
Worcester

www.3ttrainingltd.co.uk
Related Products and Services

4.5

stars based on

2

customer reviews
Write a review
By Brian Thomas, University of Birmingham
I have recently completed a five day fork lift truck training programe with 3T Training and I would just like to say how comprehensive and enjoyable the instruction was. I found the course ran at a good pace and information flowed at every point during the day. Overall I thought the pace, information, amount of practice and variety of the course was exeptionally good. I would recommend 3T Training as a thourough and professional company for forklift truck training.
Was this review useful?


By Andrew Loat, School of Mechanical Engineering
I have just completed a 5 day counter balance forklift truck training course with 3T Training The training was very well conducted. The first day which involved a lot of theory work was well presented and any questions we had were thoroughly answered and explained. The following 4 days were practical based on the fork lift trucks and the exercises we were given to perform were very well explained and demonstrated. all practical advice was offered where needed when performing the exercises. I had never driven a ForkLift truck before and after 5 days training I have got to a level where I am considered competent enough to drive the fork lift trucks we have here at the school of Mechanical Engineering.
Was this review useful?


Associations
Payment Methods
BACS
Cheque
Opening Hours
Monday
09:00 to 17:00
Tuesday
09:00 to 17:00
Wednesday
09:00 to 17:00
Thursday
09:00 to 17:00
Friday
09:00 to 17:00
Saturday
Closed
Sunday
Closed